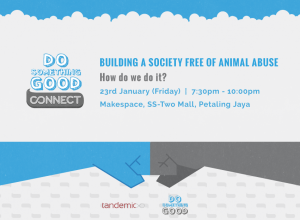 "Any society cannot be considered developed if it condones abuse and cruelty to the qanimals. The plight and the sight of abandoned and stray animals in our streets are not features amenable to the developed society that we envisage."– Dato' Dr. Mohd Nordin Mohd Nor, Malaysian National Animal Welfare Foundation
If you care about animal welfare, come join us on January 23rd, 7:30PM in Damansara Perdana to talk about how we can build a society free of animal abuse.
Where and when is it?
Date    :           23rd January (Friday)
Time    :           7.30pm – 10.00pm
Venue  :           Makespace,SS2Mall, Petaling Jaya, Selangor (Map: http://bit.ly/1D
You won't want to miss it. Register yourself at http://bit.ly/dsgcjan15
Who will be speaking?
Jean Liew, co-founder at Trap, Neuter, Release, Manage
Edward Lim, Shelter Manager at PAWS
Fareea Ma, Managing Director, Animal Projects & Environmental Education Sdn. Bhd. (APE Malaysia)
Wani Muthiah, Founder, Malaysian Dogs Deserve Better
Lorna Fisher, Chief Operations Officer, SPCA Selangor