PAWS accepts unwanted pets and stray animals – puppies, adult dogs, kittens and adult cats. Once they come to our shelter, they are given medical attention, fed and re-homed, if possible.
Please take note that the surrender of animals to PAWS is on a permanent basis, i.e. anyone who surrenders an animal is not allowed to reclaim or re-adopt at a later time.
As much as PAWS would wish otherwise, we cannot guarantee that all surrendered animals can be housed with us indefinitely due to space, staff, and financial constraints. This is unavoidable for so long as surrenders outnumber adoptions.
If you surrender any animal to PAWS, you do so with the understanding that the animal may be humanely euthanised. If this is not acceptable to you, please do not leave any animal at PAWS.
If possible, please neuter/spay and vaccinate the animals before surrendering them to PAWS.
Surrender Procedure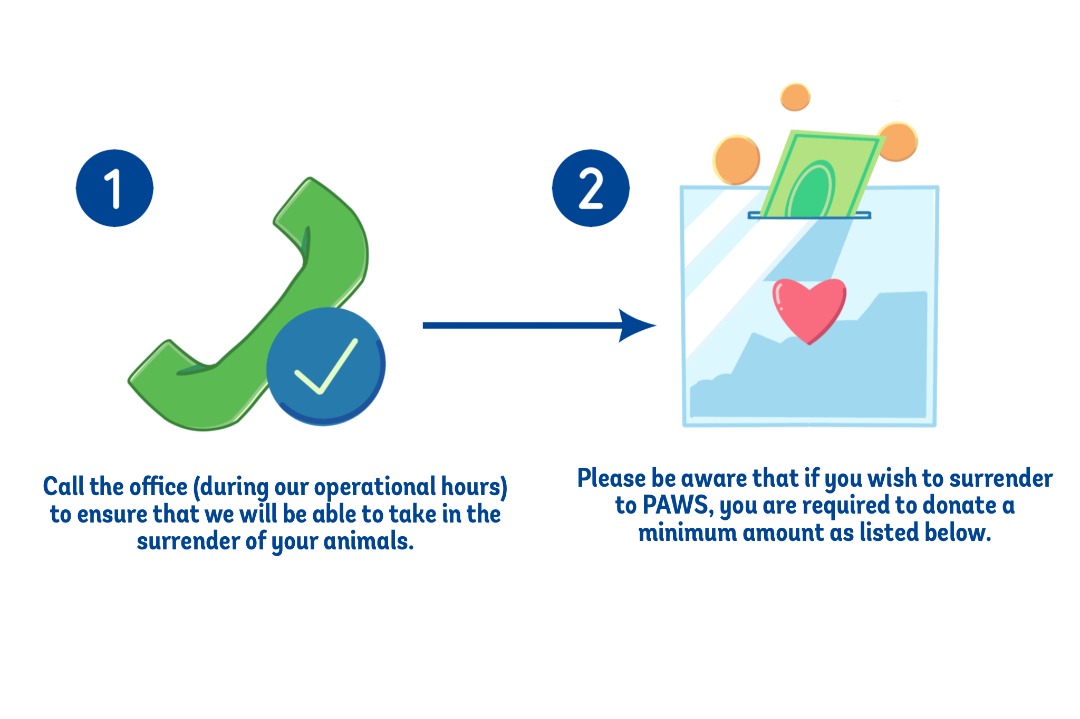 Call or WhatsApp the office at 011-2193 5651 during operating hours to ensure that we will be able to take in the surrender of your animals. Kindly note that we do not reserve or allow bookings for admission space.
Please be aware that if you wish to surrender an animal to PAWS, you are required to donate a minimum amount.
Donation Amount
| Type | Donation Amount |
| --- | --- |
| Adult Dog (above 1 year old) | RM120 per dog |
| Puppy (below 1 year old) | RM150 per puppy |
| Adult Cat (above 1 year old) | RM100 per cat |
| Kitten (below 1 year old) | RM120 per kitten |
| Rabbit (regardless of age) | RM150 per rabbit |
Although we have set a standard minimum donation per animal, we humbly ask that you make a bigger contribution to our organisation if you can afford to do so. PAWS receives no government funding. As the donations we receive from adoptions and surrenders alone are not enough to cover the costs of caring for the animals here (e.g. for food, vaccinations and neutering), we also raise funds through other channels such as charitable events to ensure the welfare of the animals at PAWS.
Donations in cash and in kind are greatly appreciated. For a list of items we need at PAWS, please refer to the Donate section.
Your help can make a difference. Thank you!