PAWS accepts unwanted pets and stray animals – puppies, adult dogs, kittens and adult cats. Once they come to our shelter, they are given medical attention, fed and re-homed if possible.
As much as PAWS would wish otherwise, we cannot guarantee that all surrendered animals can be housed with us indefinitely due to space, staff and financial constraints. This is unavoidable for so long as surrenders outnumber adoptions.
If you surrender any animal to PAWS, you do so with the understanding that the animal may be "put to sleep". If this is not acceptable to you, please do not leave any animal at PAWS.
If possible, please neuter/spay and vaccinate the animals before surrendering them to PAWS.
Surrender Procedure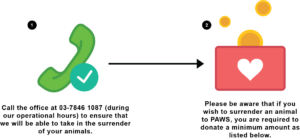 Call the office at 03-7846 1087 (during our operational hours) to ensure that we will be able to take in the surrender of your animals.
Please be aware that if you wish to surrender an animal to PAWS, you are required to donate a minimum amount.
Donation Amount
| Type | Donation Amount |
| --- | --- |
| Adult Dog (above 1 year old) | RM80 |
| Puppy (below 1 year old) | RM110 |
| Adult Cat (above 1 year old) | RM60 |
| Kitten (below 1 year old) | RM80 |